Epicon Key In Sealing Water Damaged Culvert
A number of new-built homes became the subject of headlines, after the devastation caused by the September 2012 storm. A damaged culvert, torrential rain precipitated a cascading waterfall that washed away land underneath Spencer Court in Newburn, Tyne & Wear. Concrete piles were totally exposed and shocked residents were evacuated from properties which were left balanced precariously and teetering on the brink.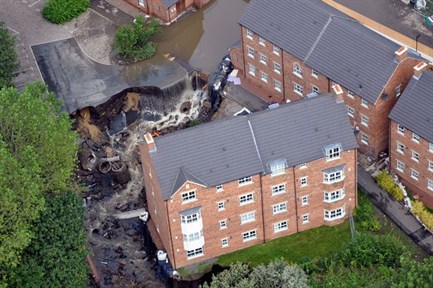 Image courtesy of Chronicle Live
Nufins supplied sub-contractor AE Yates with Epicon Crack Injection Resin (epoxide resin) to seal cracks in the bottom of the culvert.
Product Benefits:
•Solvent free non-shrink system
•Excellent bond strength with in-built flexibility
•Suitable for use on damp structures
•Available in two grades to cover most applications
•Injection kit available to allow repairs to be completed quickly and simply
•Will penetrate gaps of width 0.1mm and above
•Excellent performance in harsh environments
•Good chemical and water resistance
•Thixotropic grade is suitable for vertical cracks and can be used in inverted situations, where access is limited
•Complies with the requirements of EN1504 Part 5

Following the £10 million contract, water is once again flowing through the repaired culvert under the estate and running towards the River Tyne.
Image courtesy of The Daily Mail
For more information please contact t: +44(0)191 416 8360 or e: info@nufins.com