Prime Flex 920 Used To Seal Leak In Saltersford Lock
Omega Hydrotechnics were called in at short notice by The Canal & River Trust to complete repairs to Saltersford Lock. The scheme involved drilling down 9m from the top of the island between the large and narrow locks to resin inject to seal a leak that was preventing the Canal & River Trust from dewatering the large lack so repairs could be undertaken on the damaged lock gate cill and repair of the lock gates.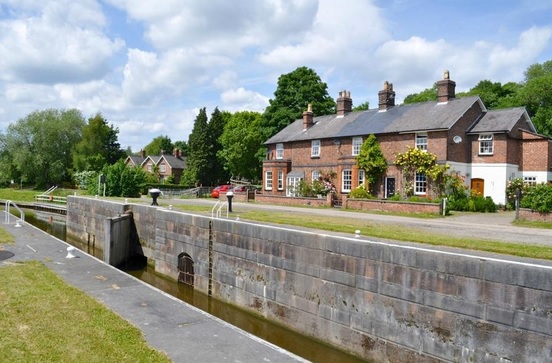 Omega Hydrotechnics approached Nufins technical team to discuss which polyurethane resin is best fit for purpose. The decision was made that Nufins Prime Flex 920 would be the perfect resin for the job, utilising its high expansion rate and closed cell solid foam cured state to seal the leaks.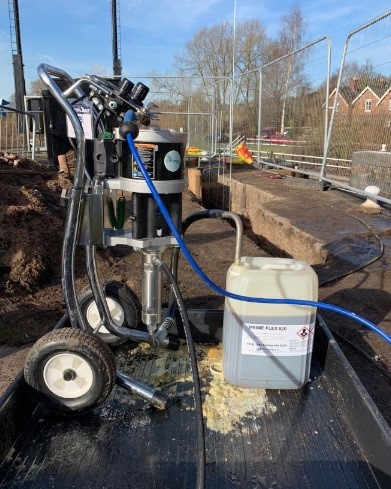 Over the course of a 4 day period Omega Hydrotechnics injected 1060L of the Prime Flex 920 into 7 x 50mm core drill holes that had been formed at the bottom of the canal with the help of the drilling sub contractor EMDD. When injected, the resin reacted with the water and expanded up through the voids and cracks in the lock wall as well as expanding horizontally across the width of the crack between the structures.

Once cured the crack was filled with resin and the water flow had been stopped and therefore the issue the client was encountering in de-watering the locks having water flow between the two had now been eliminated.

John Joe Dolan, Omega Hydrotechnics Director commented: "Very impressed with the Prime Flex 920, the resin over performed to our expectations. The resin expanded from the initial injection point at 9m all the way back up to the open crack at water level. Total expansion was 5m high by 1m wide which wasn't anticipated and impressed everyone including our client. Can't thank Nufins enough for all their help on this scheme. Even though we had very little procurement time, Nufins had all materials on site 2 days after we placed the order. Nufins technical advice was available 24/7 and this is much appreciated by everyone at Omega Hydrotechnics. Looking forward to our next scheme together."

The project was a great success and the Canal & River Trust can now continue with their repair works to the lock gate without any further delays.

Nufins Prime Flex 920 is manufactured at our Head Quarters in Washington. It is the ideal solution for many water ingress issues in structures such as:
Canals
Basements
Car parks
Swimming pools
Sea walls
Lift pits and many more
For more information please contact t: +44(0)191 416 8360 or e: info@nufins.com