Channel Drain Reinstatement; TfL Liverpool Street Station, London
At Liverpool Street Bus Station, the channel drain was set to height using Confil Bedding Mortar and the transition slot was then filled to the running surface with Epiflex.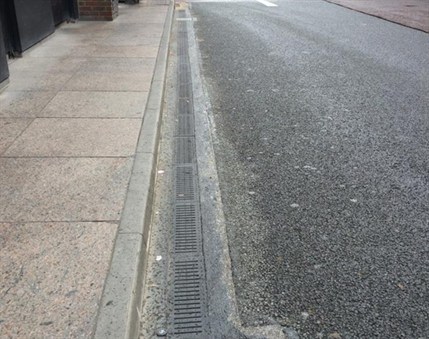 Epiflex is a flexibilised, self-compacting, resinous material that develops high bond strengths to metal, asphalt and concrete. Loading and stresses between channel drain and all types of substrate are evenly distributed by this waterproof material and eliminates water ingress. A waterproof transition mortar was critical for this application, since Liverpool Street Rail Station concourse is situated immediately below the Bus Station road deck.
The loadings exerted by double decker buses are known to be the heaviest in the UK and the location is subjected to almost continuous trafficking.
Suitable for use with ironwork or composite channel-drain, gullies, frames and covers. When installed correctly in accordance with our guidelines, this innovative system can be expected to provide a service life of 20 years and eliminate early collapses and pothole development.
For more information please contact t: +44(0)191 416 8360 or e: info@usluk.com.